CadMakers is a construction and manufacturing technology company focusing on automation of project delivery from design through fabrication, site installation and life cycle management. Our inhouse team of software developers and engineers deliver distinct solutions to construction companies.
Construction
3D/4D/5D Digital Construction Services
Independent and fully integrated virtual construction of all project disciplines from design to fabrication to installation on site. As of May 2018, CadMakers has completed 200 virtual construction projects all over North America, since starting in mid 2014.
3D conflict studies, constructability reporting and design for manufacturing and assembly process implementation.
Generative modelling for optimization / rationalization studies.
On site 3D scanning services and model integration
Construction Process Simulation
Kinematic, time motion studies to assess assembly sequences and assess for risk, safety and optimized process planning inclusive of resource and material allocations.
Prefabrication Execution Services
Mass Timber Modeling for fabrication – Offered for approval 3D/2D shop Drawings, 2D single piece shop drawings, 3D model direct to fabrication and shop floor process (Proprietary CadMakers 3D broswer based viewer for shop floor) and erection drawings with installation sequencing simulations.
Light Timber Modeling for fabrication – 3D / 2D Shop drawings for prefabrication of panelized light timber frame systems (openings for hold downs, MEP drill holes, facade integration).
MEP Modeling for prefabrication – Plant rooms, mechanical rooms, bathroom groups, volumetric solutions (Bath pods, etc.)
Facade Fabrication Automation Services
Connecting design to fabrication with automated scripting templates for rapid cost analysis, direct to fabrication 3D modeling (,step files for CNC, .DXF unfolded views for waterjet, etc.) and BOM to ERP management and workflow automation. C# and SQL development and integrations.
Custom Automation Tools
We develop tools for all kinds of use cases and workflows, some examples: Process optimization, rule based engineering (KBE), etc. Need a new tool built, we will build it for you.
VR/AR
Dynamic Virtual Reality for process optimization exercises, project rendering for marketing and communication purposes, custom development in Unreal Engine and CATIA 3DEXPERIENCE.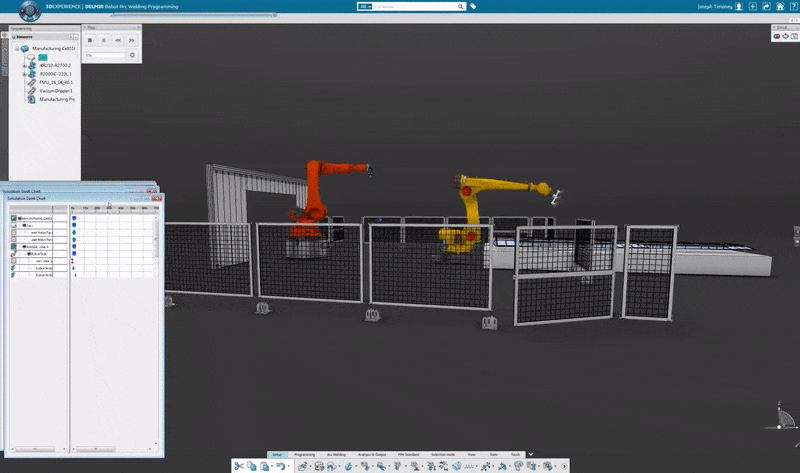 Manufacturing
CadMakers provides a range of services to manufacturing companies in the AEC, EV and Aersopace industries: Including 
Robotic Cell Development (Modeling, multi-robot kinematic simulation, generate robotic programs and optimization for cycle time reduction)
Robotics R&D
CATIA/DELMIA deployment and workflow implementation
Modeling and process planning for fabrication
Software
Custom integrations
Software development as a service: custom integrations (.NET, JavaScript, SQL).
AI and robotics
Proprietary software development: CadMakers is currently developing software around AI and manufacturing.